by The Curious Scribbler
After a week marked by terrible rain and wind,  Thursday's watery sunshine illuminated an unusually optimistic scene on the  Penglais campus.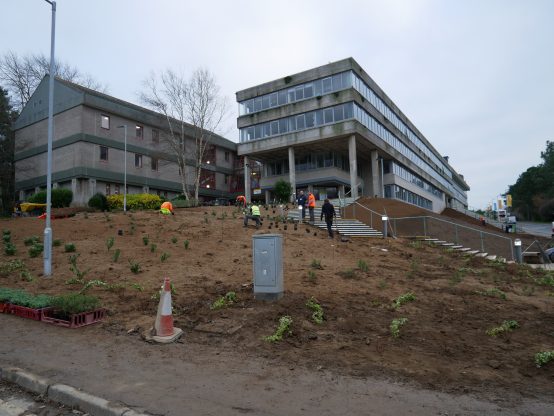 Readers of this blog will remember the widespread dismay five years ago when the heavy equipment moved in and uprooted the iconic shrub borders adjoining the main drive into the campus.  Planted in the 1970s to complement the newly completed Hugh Owen building, this varied drift of perennial and deciduous foliage was one of the features which had led to the grading of the campus grounds as of national importance in the Cadw Register of Historic Parks and Gardens in 2002.
For the last four years the area has presented a stark appearance of grass and bark, relieved only by a few scrawny trees which had been spared.  Few of these had lasting potential, they included sycamore, ash, Italian alder and goat willow, hardy weed trees which had opportunistically seeded in among the ornamental plantings.
When the chainsaws and diggers reappeared a couple of weeks ago and  these trees were removed in a sea of mud some passers-by wondered if worse was yet to come.   But over the last two days a  transformation has been wrought by a  swarm of grounds staff in high-visibility jackets.   Almost 2000 shrubs have been planted,  in swathes of contrasting foliage textures.
The planting design by Dr Peter Wootton Beard references the border which preceded it, using many of the same or similar species to those selected by former curator Basil Fox when the building was new.   Other newcomers have also been selected.  As with the original design, the layout provides swathes of contrasting evergreens  and areas of deciduous  shrubs which form dark patches in winter.  Flowers, berries and scent have not been neglected, so the tapestry will change as the seasons progress. In the next few years mulching and aftercare will be necessary, but the shrubs will fill out to create dense low-maintenance ground cover which should be good for the next fifty year.
I am told that last year alone required no less that fourteen rounds of grass-cutting on this bank, much of which is challengingly steep for machinery.  The next few years will require mulching and aftercare, but as the shrubs fill out they will create a low maintenance continuous cover which should be good for the next fifty years and more.
It is good to see some long-term investment in the appearance of the Penglais Campus.  Aberystwyth is the only Welsh university  to have been awarded a Grade II* Cadw listing, for what is described as 'one of the most important modern landscaping schemes in Wales'.