by The Curious Scribbler,
Yesterday's blog attracted a lot of comments – people really love Tanybwlch.
Stephen Tooth replied on Facebook taking the long view
"Quite a few people have written about and investigated the possible future of Tanybwlch beach over the last 10-15 years. For a starter, try Alun Williams (local councillor) and also look for a Ceredigion County Council report (I think it is in the public domain) where consultants did some modelling of the feasibility of engineering an artificial breach to establish a regular tidal cycle and encourage tidal flats. And colleagues and I regularly take AU students down there to debate possible futures. In short, there are a range of options from 'do nothing' to trying to manage an inevitable degree of change."
And Liz Probert commented on the blog " Apparently no one knows who actually owns the car park. The council don't own it so they can't officially do anything."
So imagine my surprise at the scene this afternoon!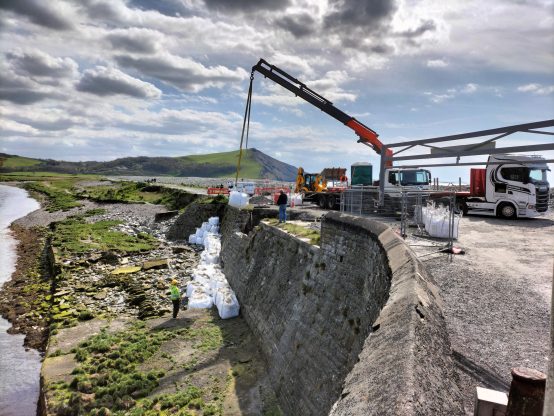 e Bags of stone are being piled up against the retaining wall, swung in on the crane arm of an Afan lorry, and while I watched a yellow digger was engaged in filling up the small sinkhole and tamping it down.
The larger hole will take a great deal of filling, I look forward to watching progress in the coming days. I wonder how the deadlock of the last three years came to be resolved?