By the Curious Scribbler
Seven years ago I began this blog with an account of the flowers we arranged for my elder daughter's wedding in November. Raiding my own and friends' gardens then  provided a floral range not readily accessible through florists.   I built on this experience last month when my younger daughter married, in a barn wedding in Herefordshire.  This was no stately venue but a real working barn, in which the groom's family house their beef cattle and hay in winter, and what the bride wanted was lots of fairy lights and flowers!
In keeping with the setting we avoided the new and shiny.  Between the two families we collected up three pairs of aged milk churns, seven leaking galvanised buckets, and sundry large Victorian earthenware storage pots, and some large jam jars.  For the table centrepieces we used amateur clay pots we had thrown ourselves.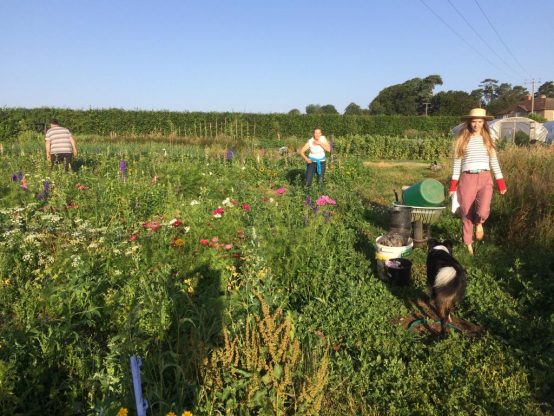 Warren Farm, Brockhampton also sells flowers at the farm gate, and we were up soon after dawn to roam the cutting field, and came back with bucket loads of summer flowers: achillea, Ammi majus, delphinium, larkspur, lupin, scabious, clarkia, nigella, astrantia,  helichrysum, cornflower, gypsophila, lavender, hydrangea, many shades of cosmos.  Farmer James Hawkins margins his fields with generous plantings of wild carrot, borage and Phacelia tanacetifolia  for wildlife and insects, and brought great buckets of these for the big arrangements.  The old pigsties became our workspace for the day.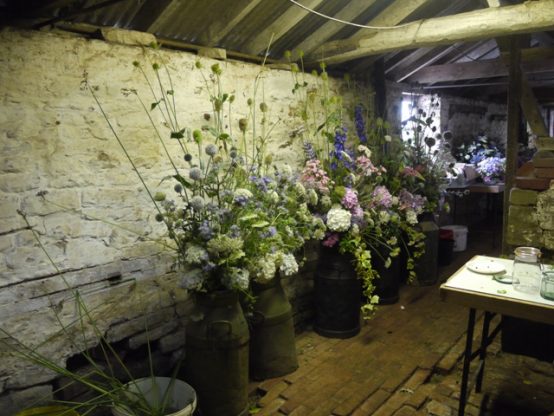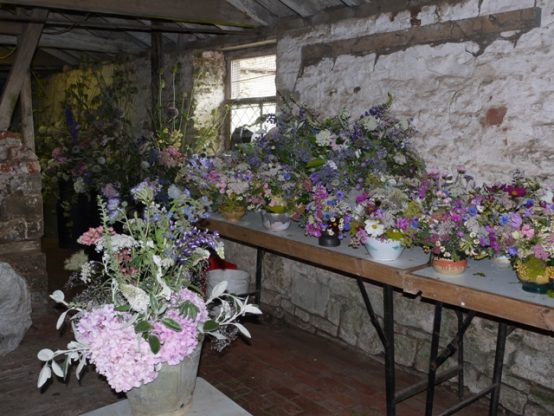 For the milk churns we used teasels and white echinops to provide the structure of the arrangements and created three pairs of varying formality.  To flank the bride and groom were the most formal arrangements while those framing the farm entrance were perhaps the most evocative, billowing with carrot and phacelia from the fields.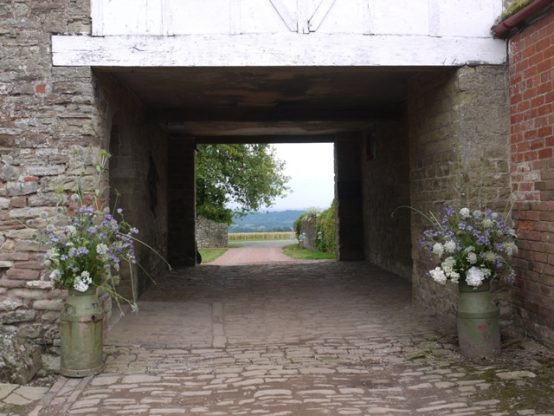 From my garden I brought the teasels, variegated tall true bulrushes (Scirpus lacustris albescens) from my pond, male fern, pink fairy rose, and fruiting guelder rose (Viburnum opulus) to drape over the edges of the pots.  Ivy was foraged locally from the woods.
The farm-grown Achillea was a particular delight for the big arrangements, for it grows more than two feet tall with great plates of flowers in romantic summer  shades of pink, cream and burgundy.
The bouquets for bride and bridesmaids were made of traditional wildflowers like honeysuckle and hardhead, along with lady's mantle, astrantia and sweet peas. All the material for bouquets and buttonholes were picked on the farm, and tied by talented members of the families.  The professional photos are as yet under wraps, but  here is a taster from a guest.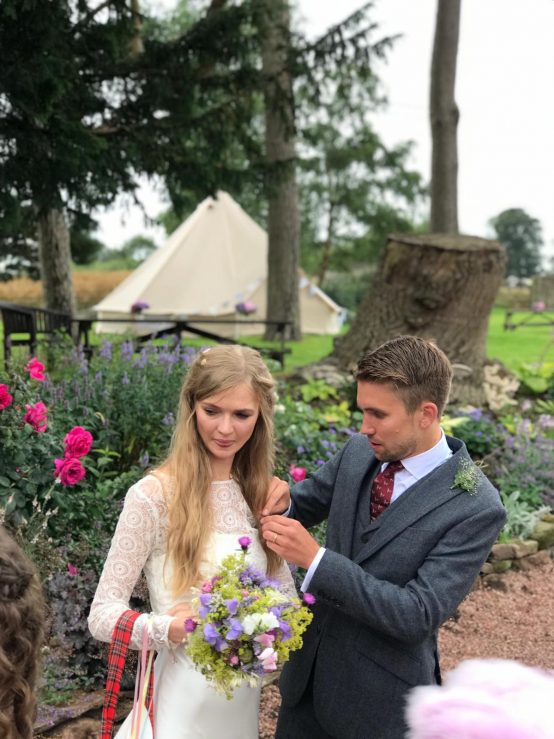 With flowers like these it was impossible to go wrong!