Mostly I write about Wales, but, so thrilled was I to have secured sought-after tickets for what has been described as the arts event of the season, Banksy's pop up exhibition at Weston Super Mare,that I will stretch a point.  On 27 August I was hunched over my computer, poised for the 10am commencement of sale of timed tickets for the following week.  And at 10-02 am I secured my chance to visit.  In less than an hour all the tickets were sold out.  Four of us, ( and, at no cost, an under-two) were on our way.
Weston Super Mare looks out over the Bristol Channel towards distant Wales, over a huge beach of excellent sand, and jutting out into this beach is a rectangular enclosure, formerly The Tropicana, a lido with swimming pool, first developed in 1937.  Since 2000 this has been a derelict site, its future insecure.  Like many other British beach resorts ( Rhyl in North Wales also comes to mind) the hoards of holiday-makers of the mid 20th century have largely deserted it.  A paramedic told us that her clients largely fall into three categories, the denizens of care homes in the handsome Victorian stone-built seaside villas, the overdose-prone unemployed, and the drug dealers indulging in turf wars over their customers.  Weston has certainly seen better days.
But for five weeks this August and September the lido has acquired a new purpose, as huge queues of visitors wait patiently to enter through the 1930's facade of the entrance, which is remarkably architecturally similar to Aberyswyth's neo-Georgian concrete block railway station of the same era.  Were both commissioned by the Great Western Railway?
Gloomy-faced attendants in pink high visibility jackets marked DISMAL hector the new arrivals.  "What are you smiling for?  This is Dismaland."  One stared out the baby and asked her 'Have you been drinking?'
"Ya" she replied.
A stern gaze shifted to her mother." She says she's been drinking…" said Dismal.  And reluctantly she let us through.
This theme of gentle abuse generated a remarkable ambience of cheer among the visitors.  Inside there was the opportunity to buy a big black balloon labelled "I am an imbecile.  Many did.
The lido is now dominated by Cinderella's Castle, shabbily constructed with a scaffolding frame, part derelict, a huge structure which, until recently, locals were hoodwinked into believing was a film set.  Nearby was a one of those plastic playground tree playhouses you used to find in Happy Eater car parks, its swings gone, and its doorways closed by breeze blocks.  Rafts of that pernicious weed, water hyacinth floated across the water.  An abandoned doll and and a trashed supermarket trolley lay in the moat.
We queued to enter the dark interior, were photographed smiling happily, and then turned a corner in pitch darkness to find ourselves confronted by Cinderella's fatal coach crash, illuminated only by the flashes from the paparazzi.  Two blue birds hover over her, untying her sash.  On exiting there was a purchase opportunity, our photograph, in a fine gift card mount, in which our images were cunningly superimposed on the scene as the first rubberneckers grinning idiotically at the disaster.
Advertising, business and politicians all take a punishing within these walls.  There was a tent devoted to political placards and slogans, on card, fabric, and beautiful silk screen printed headscarves, another to the sale of a range of anarchist and left wing literature.  On the flank of the castle a huge painted  billboard showing a smug David Cameron being peeled and scrumpled off the wall.  By the children's sandpit with its aged plastic toys stood a Pocket Money Loans booth which always held a queue of adults eager to inspect the cleverly realistic  posters and offers within. The mini golf didn't give your ball back, and was set in a landscape of crude oil and a Murco petrol pump.  The closer you looked, the more you saw.
More than 50 artists have contributed to this remarkable pastiche, and paintings, sculptures, and installations were to be found in a large ugly shed along one side.  Here death intermittently cavorted on a bumper car to the accompaniment of cheerful lights and music, and a Damien Hirst installation  held a beach ball, hovering on an upward air current over a bed of upturned knife blades.   I sometimes  rant against the pretentious interpretive paragraphs which many galleries make their artists provide beside their pictures.  Here were many art works, puzzling and thought provoking, offered with no explanation whatsoever.  The effect is far more fascinating as a result.
There was a potting shelf of real big brand ready meals boxes on each of which stood a plant pot in which a disc of the card taken from the box had been fitted to represent the soil layer. It seems all ready-meal photographers including a sprig of parsley or some other herb which you are unlikely to detect in the actual product.  The artist had painstakingly cut out, and folded upwards the token sprig on every piece of card, to give the impression of an array of eager plantlets. A thought-provoking take on the auricula theatre concept.
At the end of this hall was a huge table top tableau of a dystopian city scene, illuminated only be streetlights and the blue flashing lights of innumerable emergency vehicles.  Jimmy Cauty's Aftermath Dislocation showed innumerable tiny figures, fire police and ambulance, engaged with every crisis.  I could have lingered for much longer had not the Dismal attendants harangued us to keep moving.  I have since googled him, and find that for £450- to £3000 I could own a tiny piece of similar mayhem, cleverly captioned and encased in an oversized, upturned jam jar.  Something unusual for Christmas perhaps?
Emerging onto the light we found the carousel,  a proper traditional galloping horses ride which the youngest member of our party was keen to ride.  There was, however, as with everything at Dismaland, a twist.  One of the pretty horses hung from a hook,  and beneath it sat a blood speckled slaughterman with a big knife and a pile of cartons marked LASAGNE.  The horsemeat scandal had been pushed to the back of our minds.  Until now.
Migrants however is the present media topic, and here too there was a dark interpretation.  On a pool next to the carousel one could pay £1 to drive, by remote control, the rubber dinghies packed with migrants, or a gunboat, beneath the white cliffs of Dover.  Drowned bodies bobbed in the water, and the lights from the carousel reflected, like blood, on the dark water.
What did the youngest member find most remarkable about this attraction, a theme park "not suitable for children"?  The prize must go to one of a series of nightmare cakes with human teeth in the tent devoted to the Sleep of Reason.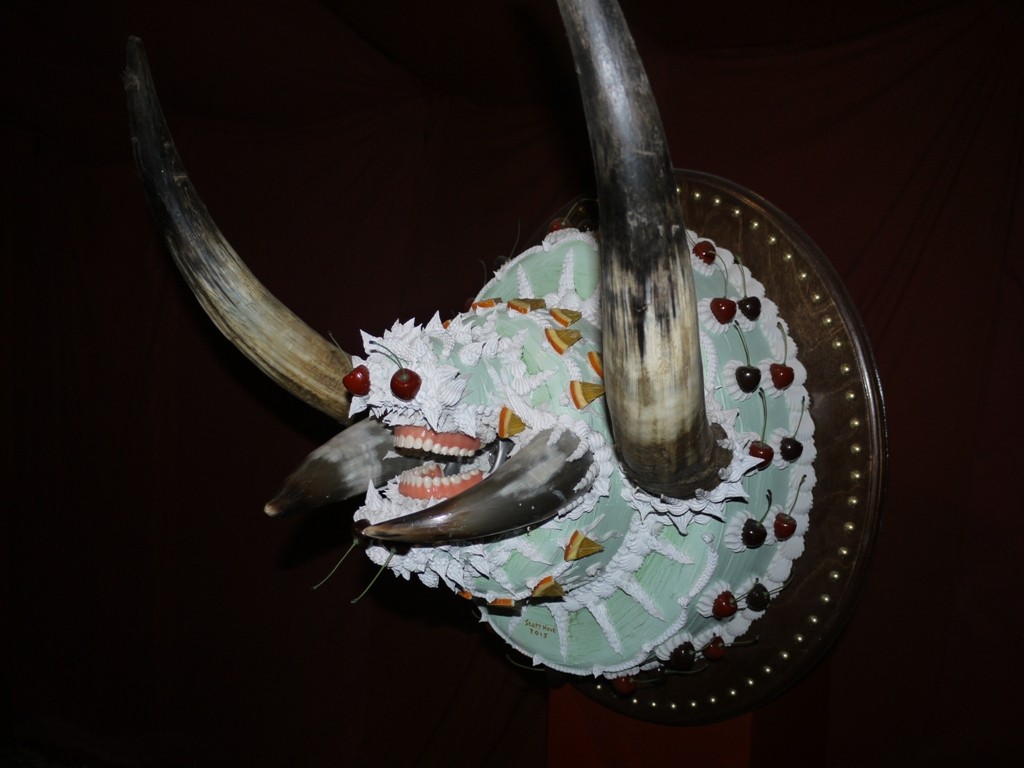 And the scariest? That was undoubtedly the old lady attacked by seagulls, on a park bench.  Our young companion is too young to have read the recent accounts of herring gulls killing small dogs and a tortoise, but she did NOT wish to sit beside it. The dismal attendant looked on with admirable detachment.
Dismaland was thronged with people interacting with the artworks, watching the foul mouthed Punch and Judy by Julie Burchill, just sitting in the deckchairs admiring the vista of decay or pondering the posters.  It made an excellent day out.