I googled the Penglais Campus today and found a link to its Investing in the Future  campaign of refurbishment.  The first line reads "Penglais Campus has benefitted from extensive refurbishment over the last year. Keep checking this section for more developments in the near future."  But when I clicked on it this is all I found.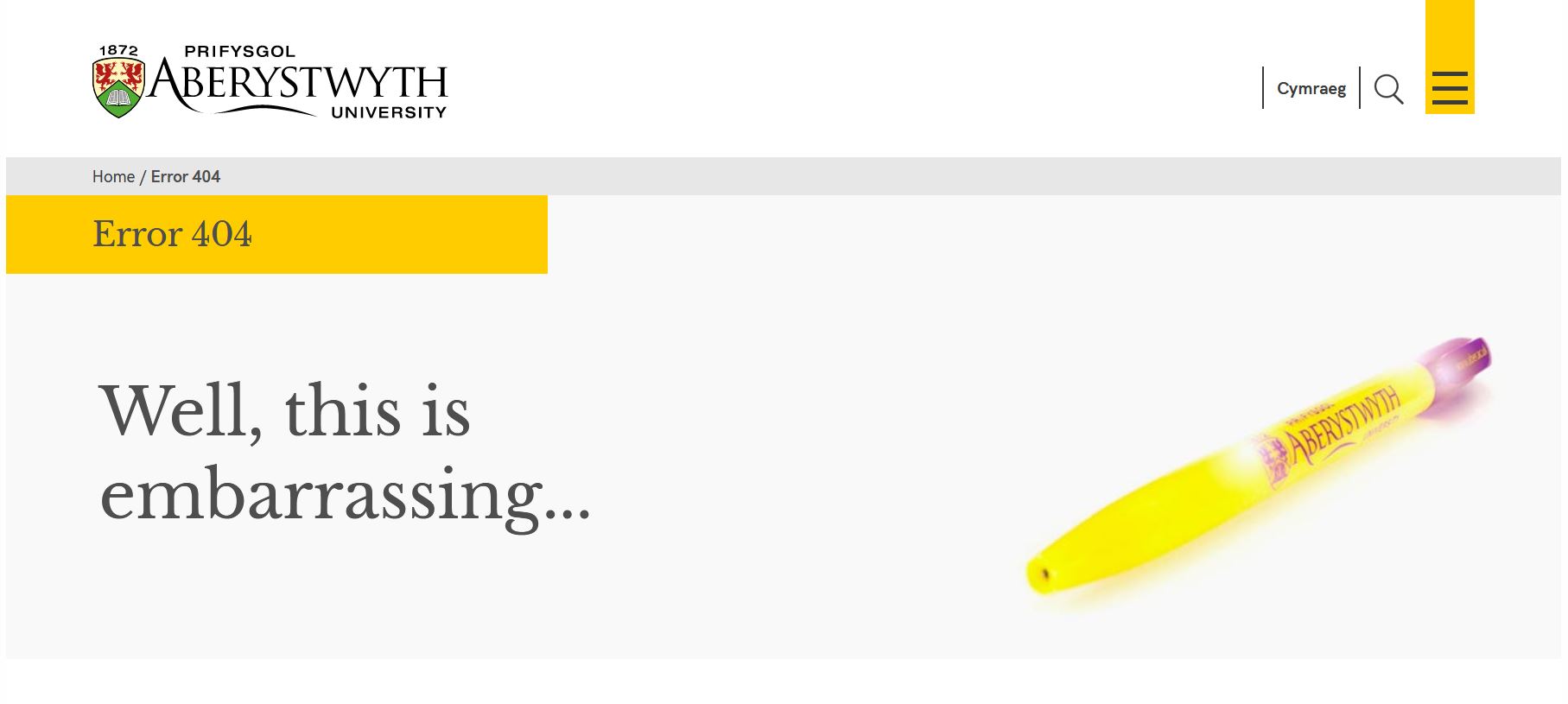 Embarrassing is indeed a good word for what has been done to the campus in the last two years!
People are still reeling from the conversion of the main entrance from this:
to a gulag with weed trees in the foreground, and vistas of  bark and turf.
Other major losses to the important  Cadw II* listed plantings have been described in this blog over the last 18 months.   Its historic character is being steadily and unnecessarily whittled away. Another loss has just occurred in association with the car park which occupies a space between Computer Sciences and Physical Sciences and is being radically reconstructed.
The Sweet Chestnut which stood out so handsomely against the red wall of the Physics Building has been cut down.  It adjoined the car park, but was not in it.  The stump stands, outside the contractors' area today.  Once again the decisions about "Improvement" are being carried out without attention to the landscape significance of the site.
Plantings were created by thoughtful horticulturalists to complement this architecturally striking building.  On the other side there is a fine border and a birch, ( safe but for how much longer?).  This view was formerly framed by a lawn on which happy students were often photographed for University brochures.  Was it really necessary to sacrifice so much of it for the giant lettering on the huge turning area which  serves the users of two disabled parking spaces?
I took a visitor around the campus on Saturday, and across the road from this she spied the entrance to Biological Sciences. Could those really be PLASTIC PLANTS?
" I've seen enough" she exclaimed, "take me away from here!"
Perhaps the people in Biology are doing irony. The creation of the campus plantings in the 1960s and 1970s was closely influenced by the expertise of successive professors of Botany working with well-qualified designers and gardeners.  Today, the academic staff have no influence upon their  environment, and the University has no Conservation Management Plan, presumably because conservation of a 20th century landscape is not their priority.  Indeed it was recently announced that the care of the garden landscape of the campus has been devolved from the Estates Department to the general manager of the Sports Centre.
Contrast this with the University of Bristol which is custodian of eight historic gardens including a 2009 Centenary Garden, all expertly cared for.  Aberystwyth could shine for its exceptional 20th century landscape.  It is an opportunity lost.