by The Curious Scribbler
Rain last night has further swollen the rivers, and now we have wind! Exhilarating buffeting winds from the west, gusting almost hard enough to knock you over!  60 miles an hour or so I'm told.  So my place of choice is Tanybwlch, where the Ystwyth debouches into the sea.  It is murky and brown with fresh run off, and further swollen in the tidal reach because the tide is obstructing its outward flow.
Mist from the breakers hangs over the Tanycastell fields and the riverside path is flooded in parts.
The concrete jetty largely protects the harbour mouth, though the swell still forms regular brown rollers creeping along its leeward side.
But to position yourself on the windward side on the top of the shore provides an endless spectacle, as waves break in curious explosive shapes over the green and white harbour marker, sometimes obscuring it from view, and the backwash forms swirling wave patterns in the angle between the beach and the shore.  It is easy to see how the huge stones at this end of the beach get their smooth contours.  The sea acts like a giant pebble-polishing device.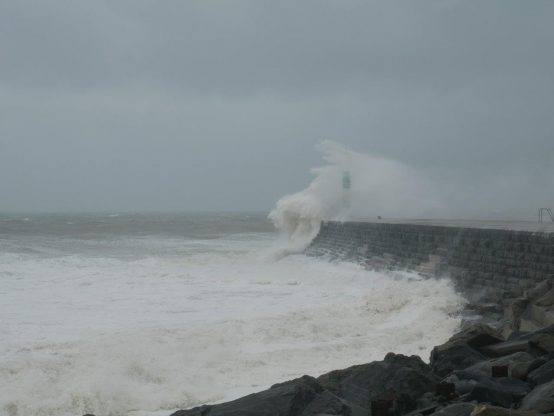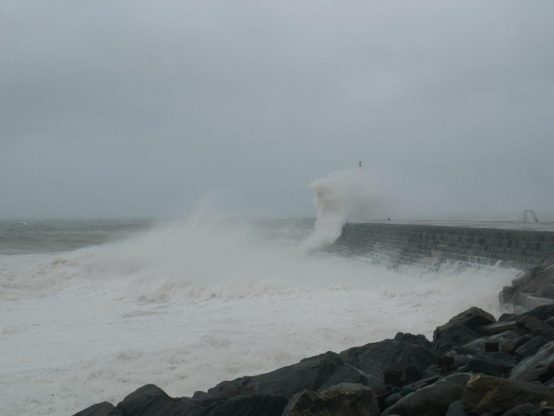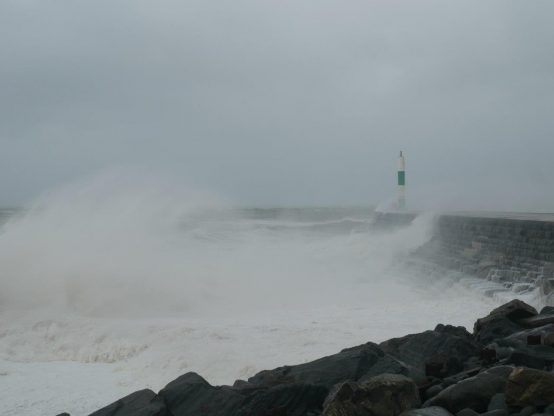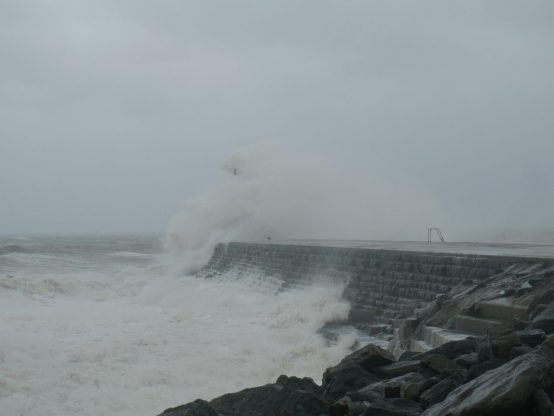 The town is a little tamer than Tanybwlch, but still dramatic.  At 4pm the clouds were so dark that the streetlights on the prom were glimmering into light.
Unwary promenaders could get splashed by the waves curling up against the sea wall and showering spray and small pieces of gravel.  As the waves pull back the perfect profile of the sandy beach is briefly exposed.
The full force of the open sea is greatest at Alexandra Hall but this was a summer storm, not one of the ferocious winter ones which sometimes hurl stones at the windows of that forbidding building.  The door was open and without barricades.  Students will soon be moving in again. There were a few walkers kicking the bar, and beyond it the small piece of sandy beach below Constitution Hill was white with blown sea foam.
I came home to wash the sea salt out of my hair, much invigorated by the wind and waves.