by The Curious Scribbler
Yesterday's balmy sunshine illuminated a scene of great activity on the promenade, as diggers and scrapers collected up huge piles of sea sand and returned them to the beach.  This was not like the pebbles and rubble aftermath of a heavy storm such as we have see so many winters.  Instead the beach seems to have gently migrated up and over the sloping paving of the prom.  From time to time over  the winter a path has been swept through it for the benefit of walkers and buggies but the highest tides have repeatedly augmented and redistributed the sandy covering.
When I was there, the area north of the Prom Diner had yet to be tackled, the sandy foreshore dimpled by a thousand footfalls reached right up to the planters full of cheerful daffodils.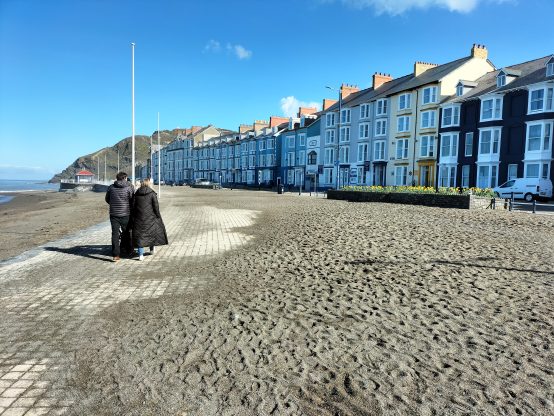 I do not know whether there are local measurements for sea level here, but the global estimate is that it has risen by 3 inches, (8cms) since the year 2000.  As global warming advances and more and more ice melts it will surely rise further.  It looks as if regular high tides rather than severe storms are playing the greatest part in the migration of the beach onto our promenade.  Sweeping sand off the prom may become an increasing task in the coming years.