by The Curious Scribbler
When I visited the Chelsea Physic Garden a couple of years ago I received a charming little ticket inscribed in the blank middle 'Admit One'. The 18th century engraved decoration of the card showed exotic palms, banana trees, agaves, a well-built and scantily clad lady, ( The Goddess Flora I presume?) and a sturdy and equally flimsily veiled cherub, or more accurately, a putto. Flora rests her bare foot upon the works of Philip Miller, (gardener of the Physic Garden and author of eight editions of the Gardener's Dictionary 1732-1768) and of Hans Sloane, the garden's benefactor.
I had seen this design before. Amongst the ephemera of one of Ceredigion's great houses I came across an original, in which, instead of the terse "Admit One" the central panel reads:
Mr David Lewis The Bearer, a Member of the Society of Apothecaries of London, is intitled to visit their Garden at Chelsea, as often as he pleases, at convenient Hours. No servant is to receive from him any acknowledgement on that Account.
On the reverse were written three names: Hugh French, Master, E.D.G. Fafield, and Wm. Henry Higden, Wardens.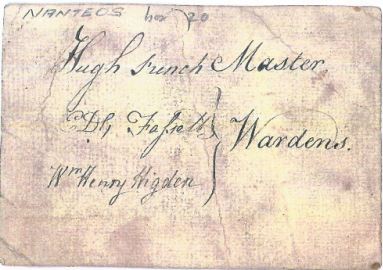 The Archivist at the Chelsea Physic Garden was able to tell me that the Society of Apothecaries appointed a new Master annually, so Mr David Lewis's card was issued in 1807-1808.
Lewis is not a rare name in Wales, but this David Lewis was almost certainly a local gentleman, the owner of a 199 acre estate, Cefn yr Yn, which was located about 12 miles inland from Aberaeron in the fertile Aeron Valley. His estate was surveyed in 1787 and showed it divided into four tenanted farms, two of which had very extensive gardens which may have produced herbs.
His membership pass to the Apothecaries Garden ended up in the archives of Nanteos (see last post) amongst unsorted papers dating from the life of William Edward Powell. W.E. Powell inherited Nanteos, one of the four great estates of Ceredgion, in 1809 at age 21 and promptly set about an extensive program of house and garden improvements, egged on by the influence of Welsh architect John Nash and his circle. Very possibly he borrowed David Lewis' membership card in order to familiarise himself with the most fashionable trees and plants in London. Certainly a Tulip tree, a gigantic Ginkgo and an Oriental Plane are among the prestigious trees which mark out Nanteos as a historic garden of distinction.